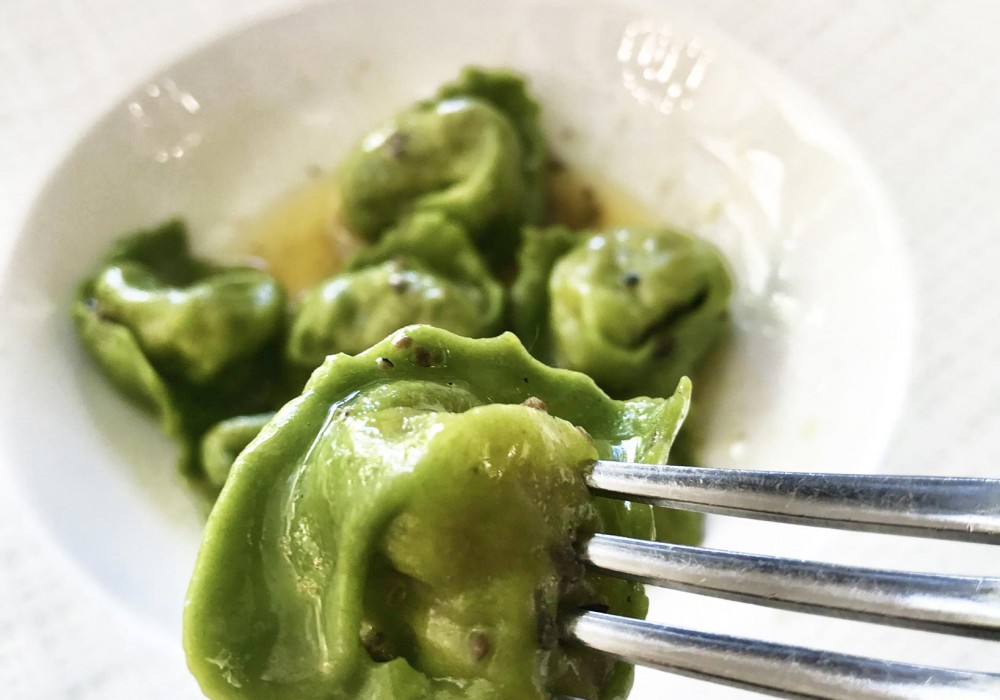 FOR THE FRESH PASTA:
300 g 00 type flour

50 g boiled spinach

2 eggs
FOR THE FILLING:

500 g Palmieri 'Favola' mortadella

200 g ricotta

150 g Parmigiano Reggiano aged 24 months, grated

Nutmeg to taste

0 g Extra virgin olive oil flavoured with black truffle
FOR THE DRESSING:

200 g butter
50 g black truffle
For the fresh pasta:
Make a well in the middle of the flour, break the eggs into the middle and add the chopped spinach. Beat the eggs with a fork and mix in the flour a little at a time. When a dough has formed, knead it until it is smooth. Leave in the fridge for 30 minutes in cling film. Roll out the pasta into a thin layer with a pasta maker and cut it up into squares, putting some of the filling onto each of these. Make into ravioli. Brush them with egg to ensure they do not open up during cooking. Cook in plenty of boiling salted water and dress with truffle butter.
For the truffle oil:
Heat the oil to 65°C and leave the truffle cut up into thin layers in it for five minutes. Filter out the truffle and set aside.
For the filling:
Mince up the mortadella and mix it with the ricotta, nutmeg, extra virgin oil flavoured with truffle and Parmigiano Reggiano into a smooth mixture.
For the black truffle butter:
Mount the butter in a food mixer at room temperature with the truffle you cooked and set aside earlier.