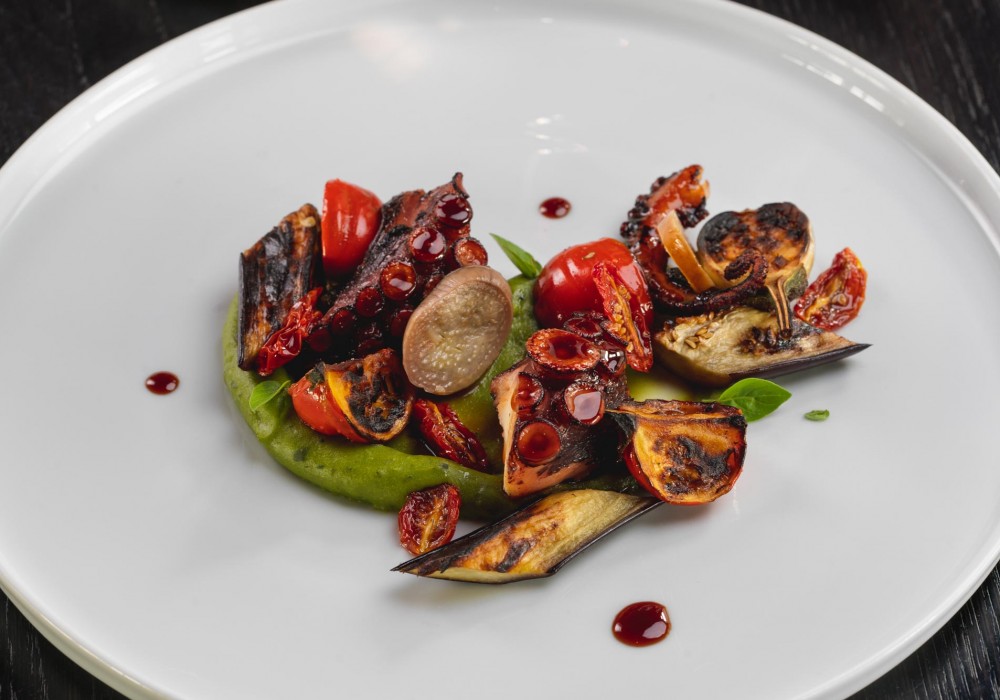 (serves six)
1 octopus weighing approx 1.5 kg
50 g tomato purée
400 g potatoes
150 g basil pesto
500 g aubergine (perlina, red and white)
200 g plum tomatoes
extra virgin olive oil
salt
pepper
chilli
basil
thyme
For the octopus:
Cook the octopus in just a little water for approx. 1 hour (depending on octopus size) and leave it to cool in its water. Drain it and reduce until the sauce is syrupy. Add 300 ml of Invernaia Rosato Emilia IGP, the chilli and 50 grams of tomato purée. Filter and set aside.
For the purée:
Boil the potatoes in water, peel them, mash them and whisk them up, adding hot milk and basil pesto to make a creamy, velvety purée. Add salt and pepper.
For the plum tomatoes:
Blanch them in boiling water for a few seconds and then plunge them into water and ice. Skin them and arrange them in an oven dish, sprinkling on thyme, basil, salt and pepper and then dry them in the oven at 120°C for approx 2 hours. Cover them with extra virgin olive oil and set aside. Sauté the aubergine in a frying pan in oil, garlic, salt and pepper. Roast the octopus tentacles in the oven at 230°C until they are golden and make a gravy out of their juices.
Arrange the potato and basil pesto purée on a plate and lay the aubergine, the octopus cut into pieces and the confit plum tomatoes on top, in this order, and sprinkle the octopus gravy over it.